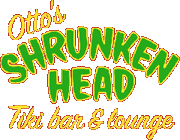 I was at Otto's Shrunken Head having one of bartender Pammy's (of Surf Gang fame - she played Pam the Metal Queen) wonderful concoctions - a Pang's Punch (it fucking glows - I kid NOT) and after 3 of theses I hadz meez a few revulashunz.
First of all If I ever do organize a religion my followers would be Spyrofarians or Eastern Spyrodox.
I would have a bible that was only a little longer than a haiku.
It would state this:
If I was the boss (5)
My bible would read thusly (7)
DON'T FUCK WITH OTHERS (5)
Period (.)
After that bit of enlightenment I had a conversation with Otto's proprietor Steve Pang (that's where the holy libation got it's name) and he tells me the cabaret police were giving him grief. You heard right. I said the cabaret police. Well of course this made me think that Joel Grey Fosse'd into the joint in fishnets, garters, leather hot-pants, suspenders, a Gestapo hat and a badge and gave them a fine for being unfabulous. But no the City of New York has spent your tax dollars by hiring people to insure you don't cut a rug, trip the light fantastic, swing, boogie, gyrate, pogo or do the Mashed Patata!
Last week our police department poured a foundry's worth of lead into an unarmed man. My tax dollars could have went to more appropriate training or non-lethal weapons but no, they are spent on sending some putz into a club that gives out tickets every year's end when people take a few steps in rhythm.
So I had yet another revelation.
Why did people start dancing in the first place?
As you all might start to notice I love to use wikipedia so I looked up the word dance.
I got these two things:
"Dance (from Old French dancier, perhaps from Frankish) generally refers to human movement either used as a form of expression or presented in a social, spiritual or performance setting.
Dance is also used to describe methods of non-verbal communication...between humans or animals (bee dance, mating dance)..."
Continue reading "Rev. Spyro's Church of Shake Yer Booty!" »